Sociëteit de Witte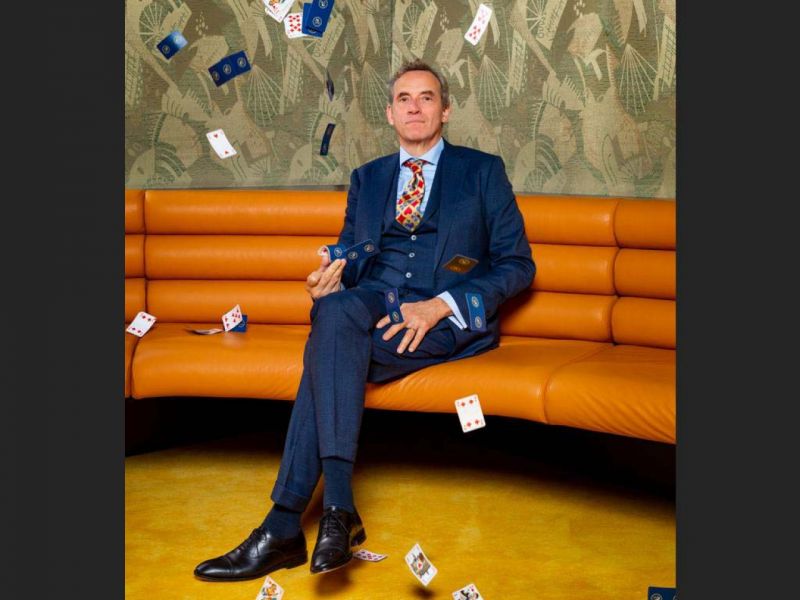 For all my friends who could not read my interview in the Dutch magazine "The Witte" here is a English translation.
Photo by @jeronimusvanpelt text by Josephine van de Mortel
"When you let go of your self expectations, life becomes a fun game".
In conversation with David Aardewerk
David studied architecture in Delft, 15 years ago exchanged his career as an architect for that of a diamond and jewellery dealer. The photo was taken in the reading room for which David designed a new interior including carpet in 2004.
Who are you?
I'm David Aardewerk. Genetically I am a mix from the Aardewerk family, van Leeuwen, Zaalberg and Teunisse. Zaalberg, my grandfather, worked as a mechanical engineer at the Silver factory in Voorschoten. There he developed new machines for the production of silver. My grandmother Teunnisse gave me my love for proverbs. My other grandmother was a real businesswoman, she came from the well-known antique dealer family van Leeuwen. My grandfather Aardewerk and his brothers had a diamond business. An international company. My father was the artist of the family and became an architect and interior designer. He has, among other things, made a pavilion at the world exhibition in Brussels together with Gerrit Rietveld. I have always been surrounded by artists and designers. My first choice of study was industrial design. But eventually it became TU architecture (where my father taught). In 1992 I started my own architectural firm. And in 2006 I turned my hobby, jewelry, into my business. My grandparents had an antique shop across from out club on the Lange Poten. They sold Chinese porcelain, Delft pottery, antique silver and jewellery. I used to play in the store as a kid. I was particularly fascinated by the jewellery. I started making jewelry when I was 14. I sold these during the antiques market on the Voorhout. In those days there was a (hippie-like) arts and crafts market. You could rent a "rug" there and sell your wares. That's where it started.
What is important to you in life?
Happiness, love, friendship, health and fun in life.
What person or event has inspired you?
Of course the world I came from. The shop on Lange Poten where I played as a little boy, the designers and artists who came to our house. In the context of my studies I would like to mention Moshé Zwarts. He was one of the two professors who guided me during graduation. His way of thinking about design was interesting. He is, among other things, the designer #netkous The Hague. Technical things that also contain a design component. Combining functionality and design, that's what I learned from him. The Netherlands is typically a country where functionality comes first. A bit along the lines of: 'please act normal'.
What is your favourite place in The Hague?
The beach. What a wealth we have that we have the beach around the corner. I live near the coast and like to walk through the dunes to the beach.
What book is on your nightstand?
I read too little. What I'm reading now; Never Split the Difference by Chris Voss on Negotiation Tactics. Voss was the top negotiator for the FBI in hostage situations around the world. There is, of course, a lot of psychology involved in a negotiation. In the book, Voss provides tools for letting someone else change his/her behaviour in such a way that the other person thinks it is his own choice. I find that fascinating.
Which film made a deep impression on you?
I really enjoyed the movie Bienvenue chez les Ch'tis, a French comedy. It is a film about prejudice, in this case how the Southern French think about the Northern French. And how short-sighted these prejudices are. But above all, it is a film full of humour. I literally rolled off my chair laughing.
Tell us something surprising about yourself
I am naturally lazy person. I'm not very good at making that a success.
What wisdom do you want to pass on to us?
When you let go of your self expectations, life becomes a fun game. And so the we come back to game of cards and that makes the circle is complete.